Night and day we pray most earnestly that we may see you face to face and restore whatever is lacking in your faith.
Focus
Engaging with people digitally, including our work colleagues, can be a gift. But this gift has limitations. There are times when, like the Apostle Paul, we need to be physically present with the people in our lives, including our colleagues and business associates. FaceTime doesn't replace good, ol' fashioned "face time," that is, being with people face to face.
Devotion
If you utter the phrase "face time" in today's world, almost everyone will think you're talking about Apple's FaceTime communication platform. I expect you know that FaceTime allows you to speak with someone via your mobile phone while also seeing their face, not just hearing their voice.
But the phrase "face time" antedates mobile technology and the Internet. According to the Oxford English Dictionary, "face time" is a colloquial expression used mainly in the United States. In 1988, for example, an article in London's The Observer said, "I have business lunches all the time. The Americans call it 'doing face time.'" Back in the day, doing face time with someone meant being physically present with them, meeting with them face to face.
Had the Apostle Paul and his colleagues been speakers of colloquial American English, they may well have shared with the Christians in Thessalonica their desire for "face time" with them. As you may recall, Paul and his team were able to spend only a little while in Thessalonica before opposition to the gospel forced them to move on. Yet they continued to feel strong concern for their converts. That's one main reason they wrote the letter we call 1 Thessalonians. It's also why Paul sent Timothy from Athens to Thessalonica to check on and encourage the believers there.
But letters and visits weren't enough for Paul. His passionate concern for the Thessalonians and their wellbeing made him yearn for more personal engagement. Thus he writes, "Night and day we pray most earnestly that we may see you face to face and restore whatever is lacking in your faith" (1 Thessalonians 3:10). If Paul had been writing in English, he may have said, "Night and day we pray most earnestly that we might get some face time with you."
We live in such a different world than that of the Apostle Paul, one in which "face time" suggests a digital connection rather than an embodied one. In many ways, I'm glad for the technology that allows us to communicate in words, gestures, tones, and facial expressions when we cannot be physically present with each other. I can't imagine how I would have been able to do my work during the past two-and-a-half years without Zoom, for example. I estimate that 95% of my meetings in the last thirty months have been via Zoom. I work closely and happily with people I have rarely or never seen in person. Yet I am familiar with their faces. I know their smiles in addition to the sound of their laughter.
Yet, perhaps like Paul and his team, I do feel as if something is lacking when I cannot have actual face time with people. Or, to put it positively, something is gained when I see someone in person. I think of a time I met one of my De Pree Center colleagues, someone with whom I had worked for nine months without ever being together in person because of COVID. When I finally met with her during a team lunch, she seemed, well, more real to me, more fully human, more completely alive. Plus, though we'd done well with digital communication, being able to talk in person added nuances that I missed in our Zoom calls. So, even though I still don't see this person very often, I'm glad to have met her in real time and in real space.
Though I'm grateful for digital technology like email, Facebook, Instagram, and Zoom, I'm aware of its limitations. Thus, I recognize that I need to make an effort to be with people in person when it's possible and wise to do so. This is especially true when it comes to my teammates, work associates, friends, family members, small group members, and fellow worshipers. So I'm glad, for example, that Michaela, the De Pree Center's executive director, is bringing together in person our dispersed team in the fall. For a couple of days we'll be able not only to "do meetings," but also to "do face time." I fully expect that this will enrich our relationships and therefore our collegiality and ultimately our productivity.
Working and engaging with people digitally can be a gift, but a gift with limitations. There are times when we, like the Apostle Paul, need to be physically present with the people in our lives, including our colleagues and associates. FaceTime doesn't replace good, ol' fashioned "face time," that is, being with people face to face.
Reflect
In your experience, how does being with someone in person differ from interacting digitally (over Zoom or a similar platform)?
What are some of the benefits of in-person meetings with people?
Are there people in your life whom you should make an effort to see in person? If so, why is this important?
Act
Initiate a meeting with someone you would like to see in person.
Pray
Gracious God, thank you for all the ways we have to interact with other people. Thank you for the technology that has allowed us to work together and even share life together amid a pandemic.
Yet, I want also to thank you, Lord, for the goodness of being face-to-face with someone. Physical proximity allows us to know each other better, to share life and work in ways we can't when we're limited to digital relationships. Thank you for the chance to see in person things we miss online. Thank you for the warmth of in-person community.
Lord, please give me wisdom to know when I should initiate with someone. Help me to reach out to those whom I need to meet in person. May our being together be an opportunity to share your grace. Amen.
Find all Life for Leaders devotions here. Explore what the Bible has to say about work at the High Calling archive, hosted at the unique website of our partners, the Theology of Work Project. Commentary on today's Life for Leaders theme can be found here: Facebook: Rediscovering 14th Century Community Values

---
Subscribe to Life for Leaders
Sign up to receive a Life for Leaders devotional each day in your inbox. It's free to subscribe and you can unsubscribe at any time.
---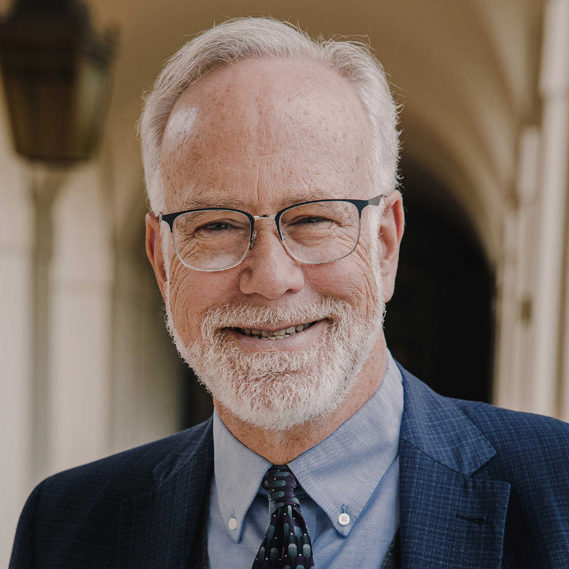 Dr. Mark D. Roberts is a Senior Strategist for Fuller's Max De Pree Center for Leadership, where he focuses on the spiritual development and thriving of leaders. He is the principal writer of the daily devotional, Life for Leaders, and the founder of the De Pree Center's Flourishing in the Third Third of Life Initiative. Previously, Mark was the Executive Director of the De Pree Center, the lead pastor of a church in Southern California, and the Senior Director of Laity Lodge in Texas. He has written eight books, dozens of articles, and over 2,500 devotions that help people discover the difference God makes in their daily life and leadership. With a Ph.D. in New Testament from Harvard, Mark teaches at Fuller Seminary, most recently in his D.Min. cohort on "Faith, Work, Economics, and Vocation." Mark is married to Linda, a marriage and family counselor, spiritual director, and executive coach. Their two grown children are educators on the high school and college level.