The experiment comes from the seminal work of Martin Seligman. He has done it with many different people and carefully recorded its benefits. Many others have confirmed the reliability of Seligman's results. This is a simple exercise, something almost anyone can do with relative ease.
A Second Gratitude Experiment
by Mark D. Roberts, Ph.D.
Max De Pree Center for Leadership
Fuller Theological Seminary
In a recent blog post I suggested that you try an experiment in gratitude. It was a "count your blessings" exercise lasting over ten weeks. Today I want to suggest another gratitude experiment. Like the first, this is not something I invented. And, like the first, this experiment has been tried with a large number of people in a large number of diverse settings. People who engage in this experiment generally have positive results in terms of their own flourishing. It's likely that others benefit as well from this exercise in gratitude, as you'll see.
An Experiment: The Gratitude Visit
The experiment comes from the seminal work of Martin Seligman. He has done it with many different people and carefully recorded its benefits.[1] Many others have confirmed the reliability of Seligman's results. The basic instructions are simple: Write a letter of gratitude to someone who has made a positive difference in your life. Then, meet with that person and read your letter to them.
In his book, Flourish: A Visionary Understanding of Happiness and Well-Being, Seligman adds more detail about the Gratitude Visit. As you begin, he suggests: "Close your eyes. Call up the face of someone still alive who years ago did something or said something that changed your life for the better. Someone who you never properly thanked; someone you could meet face-to-face next week."
Once you have identified this person, then: "Your task is to write a letter of gratitude to this individual and deliver it in person. The letter should be concrete and about three hundred words: be specific about what she did for you and how it affected your life. Let her know what you are doing now, and mention how you often remember what she did. Make it sing!"
Finally, "Once you have written the testimonial, call the person and tell her you'd like to visit her, but be vague about the purpose of the meeting; this exercise is much more fun when it is a surprise. When you meet her, take your time reading your letter. Notice her reactions as well as yours. If she interrupts you as you read, say that you really want her to listen until you are done. After you have read the letter (every word), discuss the content and your feelings for each other."
Benefits accrue to the letter writer even if an actual visit is impossible. Plus, these days, the "visit" might happen electronically, by way of a phone call or a digital conference (Facetime, Skype, etc.).
My Version of the Gratitude Visit
A few years ago I did a version of the Gratitude Visit with Lloyd Ogilvie. Lloyd had been my pastor when I was a teenager. Then I worked on his staff at the First Presbyterian Church of Hollywood. For years, Lloyd was my pastor, my "big boss," my mentor, and my enthusiastic encourager. After my dad died, he was like a father to me in many ways. Lloyd taught me how to be a caring pastor, a truthful preacher, and an effective writer. During my years as a member of Lloyd's church and then as a member of his staff, I learned more from him than from any other person in my life outside of my own family. My gratitude for Lloyd was and is immense.
So, in 2016 I dedicated my commentary on Ephesians to Lloyd and two other men who have made a major difference in my life. When the commentary was published, I sent a copy to Lloyd along with a letter. The letter thanked him in detail for many ways he had helped to shape my life. When Lloyd received the book and letter, he promptly called me on the phone and we had a wonderful conversation. I'm sorry to say I did not make a visit to read the letter to him directly, though we did have another time soon thereafter to connect face-to-face.
I wrote to Lloyd in order to honor him. But, I did also experience what Seligman found in his research. After writing the letter, I felt great, truly joyful and exhilarated. I was even more energized after my conversation with Lloyd. My version of the Gratitude Visit was a smashing success.
Notes
[1] See Martin E.P. Seligman, Tracy A. Steen, Nansook Park, and Christopher Peterson, "Positive Psychology Progress: Empirical Validation of Interventions," American Psychologist, July-August 2005, Vol. 60, No. 5, 410–421.
Looking for More on the Third Third of Life?
You can find much more about the third third of life by checking out our Third Third Resources page.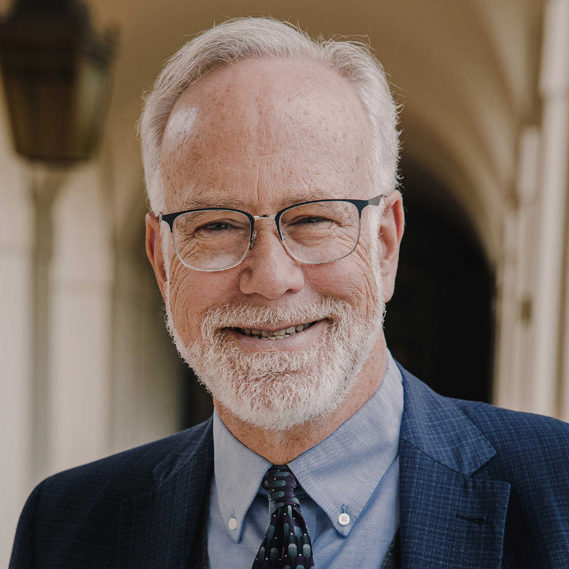 Dr. Mark D. Roberts is a Senior Strategist for Fuller's Max De Pree Center for Leadership, where he focuses on the spiritual development and thriving of leaders. He is the principal writer of the daily devotional, Life for Leaders, and the founder of the De Pree Center's Flourishing in the Third Third of Life Initiative. Previously, Mark was the Executive Director of the De Pree Center, the lead pastor of a church in Southern California, and the Senior Director of Laity Lodge in Texas. He has written eight books, dozens of articles, and over 2,500 devotions that help people discover the difference God makes in their daily life and leadership. With a Ph.D. in New Testament from Harvard, Mark teaches at Fuller Seminary, most recently in his D.Min. cohort on "Faith, Work, Economics, and Vocation." Mark is married to Linda, a marriage and family counselor, spiritual director, and executive coach. Their two grown children are educators on the high school and college level.