And you became imitators of us and of the Lord, for in spite of persecution you received the word with joy inspired by the Holy Spirit.
Focus
People will imitate you, especially if you're a leader. So, it would be good to ask yourself the question: "Am I a leader people should imitate?" In order to answer that question well, you need to ponder another question: "In my leadership, to what extent am I imitating Jesus?" The more we are like Jesus, the more people ought to imitate us.
Today's devotion is part of the series Encouragement from 1 Thessalonians.
Devotion
In yesterday's Life for Leaders devotion, we began looking at the centrality of imitation in the ministry of Paul and his colleagues. We saw that the Thessalonian converts imitated the example of their leaders and, crucially, the example of the Lord. I encouraged you to think about those whom you have imitated in life, to consider their influence, and to give thanks for good ways in which they have shaped your life, including your work.
Today, I want to look at things from the other side, so to speak. I'd like to think with you about our own lives and wonder whether we are leaders people should imitate. Notice, I'm not asking if in fact people imitate us. I'm pretty sure there are people who do, whether for better or for worse. But, given this likelihood, I want to consider whether we are living in such a way that people should imitate us.
Our passage from 1 Thessalonians helps us know how to answer this question. Remember that Paul and his colleagues note that their Thessalonian converts imitated them and the Lord. In a similar passage in 1 Corinthians, Paul urges his converts in that city to imitate him as he imitated Christ (1 Corinthians 11:1). Paul did not say, "Imitate everything about me." Rather, he urged the Corinthians to model themselves on him to the extent that he was modeling himself on Christ.
So, you and I can answer the question "Am I a leader people should imitate?" by looking at our lives in light of our own imitation of Christ. To the extent that we are acting in a way consistent with the example of Christ, to that extent we can honestly and humbly say that others should imitate us.
Of course, that's setting the bar rather high, don't you think? None of us will ever be perfect imitators of Christ. The limitations of sin make that impossible. But, because of the work of Christ on the cross and the victory of Easter, and because of the presence of Christ's Spirit in us, it is possible for us to grow into greater and greater Christ-likeness. As I've noted before, this is what theologians call sanctification. 1 Thessalonians will address this topic explicitly at the beginning of chapter 4 (see especially verses 1-3).
Notice that I began with a fairly general question: Are you a leader someone should imitate? I did not limit that question to your role in church or family. Rather, I'd like for you to think about your leadership wherever it may be active: in your workplace, in the community, in your political activity, or in your influence in a wide variety of settings. As followers of Jesus, we need to ask ourselves whether we are worthy of imitation wherever God has given us the opportunity and authority to lead.
In my work as a parish pastor, and then in pastoral roles with nonprofit organizations, I've had the opportunity to know many leaders in business and other sectors of the wider marketplace. I have seen followers of Jesus who lead large companies and who strive to imitate Jesus in their professional lives. They may not be in places where talking about Christianity is always appropriate. But they have sought to imitate Christ in the way they think, act, and speak. They have tried to treat people in a way that mirrors how Jesus treated people. They have worked to see that their organizations advance the cause of justice both internally and in the larger world. They have endeavored to imitate the servant leadership of Jesus, exercising humility and heartfelt care for the people they lead. Sometimes these leaders are so genuinely humble that it's actually difficult to get them to talk about how they are like Jesus. But even if they are reticent, those who work with them and for them are usually not.
You may be exercising your leadership in a corporation or a start-up. You may be a leader in your classroom, your neighborhood, or your daughter's soccer team. Your leadership may be expressed in church or in a political organization. You may be a coach or a mentor, a boss or a salesperson. No matter the context in which you lead, no matter the authority that has been given to you, it's always good to ask yourself, "Am I a leader people should imitate?" And as you seek to answer that question, ask yourself "To what extent am I imitating the example of Jesus?"
Reflect
When you think about imitating Jesus, what are some of the first qualities or behaviors of Jesus that come to mind?
In what ways are you intentionally trying to be like Jesus in your life? In your workplace? In your leadership? In your family? In your neighborhood? Etc.
In your life right now, is there a way you are seeking to be more like Jesus?
Act
Once again, talk with God about something you can do to imitate Jesus. As you get clear on what this is, do it.
Pray
Gracious God, I would like to be a person worthy of imitation. This means I would like to be more like Jesus. So help me, I pray, to grow in Christ-likeness. Smooth off my rough edges. Help me to serve others. Give me compassion for the people in my life, and for those who are often overlooked in our society. May I live in a way that honors you each day, seeking first your kingdom and your righteousness in all I do. Amen.
Find all Life for Leaders devotions here. Explore what the Bible has to say about work at the unique website of our partners, the High Calling archive, hosted by the Theology of Work Project. Reflection on today's Life for Leaders theme can be found here: How Should You Imitate God?
---
Subscribe to Life for Leaders
Sign up to receive a Life for Leaders devotional each day in your inbox. It's free to subscribe and you can unsubscribe at any time.
---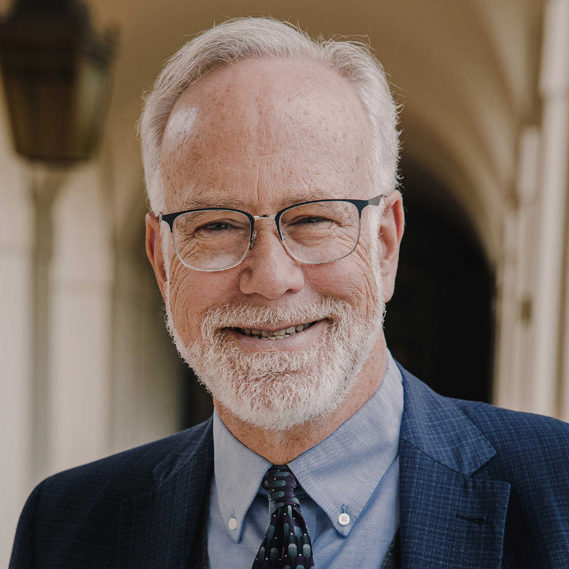 Dr. Mark D. Roberts is a Senior Strategist for Fuller's Max De Pree Center for Leadership, where he focuses on the spiritual development and thriving of leaders. He is the principal writer of the daily devotional, Life for Leaders, and the founder of the De Pree Center's Flourishing in the Third Third of Life Initiative. Previously, Mark was the Executive Director of the De Pree Center, the lead pastor of a church in Southern California, and the Senior Director of Laity Lodge in Texas. He has written eight books, dozens of articles, and over 2,500 devotions that help people discover the difference God makes in their daily life and leadership. With a Ph.D. in New Testament from Harvard, Mark teaches at Fuller Seminary, most recently in his D.Min. cohort on "Faith, Work, Economics, and Vocation." Mark is married to Linda, a marriage and family counselor, spiritual director, and executive coach. Their two grown children are educators on the high school and college level.