Then the LORD said to him, "Go, return on your way to the wilderness of Damascus; when you arrive, you shall anoint Hazael as king over Aram. Also you shall anoint Jehu son of Nimshi as king over Israel; and you shall anoint Elisha son of Shaphat of Abel-meholah as prophet in your place. . . ." Then [Elisha] set out and followed Elijah, and became his servant.
Focus
As the Old Testament prophet Elijah was coming to the end of his life, God told him to anoint his successor, a younger man named Elisha. Elisha followed Elijah for several years, serving him and learning from him. The relationship between Elijah and Elisha suggests that one way we "don't do it alone" is through mentoring. When a mentor comes alongside a mentee in a caring, learning relationship, both mentee and mentor benefit greatly.
Today's devotion is part of the Life for Leaders series: Can't Do It Alone.
Devotion
In last Thursday's Life for Leaders devotion, we saw that one of the ways Moses didn't do it alone was by implementing a succession plan as he was nearing death. The Lord appointed Joshua as Moses's successor and Moses publicly endorsed Joshua's leadership. Also, during the last months of his life, Moses shared some of his leadership tasks with Joshua, thus preparing the younger man for his future leadership.
We find a similar story in the Old Testament books of 1 and 2 Kings. Here, the main characters are the prophet Elijah and a younger prophet-in-training named Elisha.
After Elijah led a miraculous, victorious battle with the prophets of Baal, his life was threatened by the evil queen Jezebel (1 Kings 18:20-19:3). So Elijah escaped into the wilderness where he asked the Lord to take his life. But God had other plans for Elijah, plans that began with his making a 40-day trek to "Horeb, the mount of God" (19:8). There, while hiding in a cave, God was revealed to Elijah in "a sound of sheer silence" (19:12). The Lord gave Elijah new instructions, which involved anointing several future leaders, including "Elisha son of Shaphat of Abel-meholah as prophet in your place" (19:16). Elijah was to identify and authorize his prophetic replacement.
Elijah traveled to where Elisha was plowing a field and "threw his mantle over him" as a sign of the authority being invested in Elisha (1 Kings 19:19). Elisha, in response, said goodbye to his family, offered his farm equipment and animals in sacrifice to God, and "set out and followed Elijah, and became his servant" (19:21). Though Elijah had momentarily given his prophetic mantle to Elisha, the older prophet wasn't done with his own prophetic career, however. With Elisha accompanying him as his servant, Elijah continued to prophesy for several years until, finally, he was taken up into heaven in a chariot of fire (2 Kings 2:11). After this, Elisha took up the mantle of Elijah full-time, both literally and figuratively, as he began his prophetic service.
Unfortunately, we know very little about the relationship between Elijah and Elisha. We do know that Elisha was persistently loyal to Elijah, following him all the way to Elijah's last moment on earth. Reading between the lines, it's easy to imagine many of the ways Elijah influenced Elisha. What we see here, though only from a distance, is a relationship we might describe as mentoring. Not only did Elijah teach Elisha many things, but also and perhaps even more importantly, the two men shared life together. They walked together for several years before Elisha assumed Elijah's role as God's chief prophet.
The example of Elijah reaffirms what we learned from the life of Moses. Part of not doing it alone is recognizing that our time of leadership will come to an end. We need to invest our lives in those who will carry on after us. Moses did this with Joshua. Elijah did this with Elisha. But mentoring is not limited to relationships in which one person prepares another for a specific job. We can also experience what might be called "life mentoring," where two people come together to discover how to live more fully and fruitfully as disciples of Jesus.
As we think about what it means for us to not do life and leadership alone, we ought to consider seriously our own need for mentoring relationships. When we are younger, we can benefit greatly from a relationship with a more mature mentor who comes alongside us, sharing life with us, asking thoughtful questions of us, and helping us become the person God intends for us to be. When we are older, we need to be open to the possibility that God wants us to mentor others, often someone who is younger than we are. When we offer to walk alongside another person, that is a great gift for that person, to be sure. It is also a gift to those who will benefit from the mentee's life and leadership. Plus, scientific research shows that mentoring others is a gift to the mentor, contributing to brain health and a sense of purpose that is essential for flourishing in later life.
For over two decades, the De Pree Center has been committed to nurturing mentoring relationships. Max De Pree, after whom the center was named, was a beloved mentor of many, including Walter Wright Jr., former Executive Director of the center. Recently, my colleague Meryl Herr, our Director of Research and Resources, has listened deeply to experienced mentors talk about their best practices as well as to those who would like to receive mentoring. Meryl is in the process of developing resources based on her research and, as always, on biblical truth. You can see one prototype here and an insightful article here. In future Life for Leaders devotions I'll let you know about the progress of our mentoring work and how you can participate. I'm excited about what Meryl and our team are creating.
For now, let me suggest that you reflect upon your own life in light of the relationship between Elijah and Elisha. If you're in an "Elisha time of life," do you have an Elijah? Are you being mentored by someone? If you're in an "Elijah season of life," do you have at least one Elisha? Are you mentoring someone? An essential part of not doing it alone is developing mentoring relationships marked by open sharing of life, learning, and leadership.
Reflect
Have you ever been mentored by someone? If so, what happened? What was it like for you? How did you benefit?
Have you ever mentored someone? If so, what was that relationship like? What did you learn from the experience?
If you are not in a mentoring relationship right now, are you open to such a thing? Do you see yourself more as a mentor, a mentee, or perhaps both? (For example, in this season of my life I'd say I have one mentor and four mentees.)
Act
Talk to God about what you might do in light of today's devotion. Do whatever God places on your heart.
Prayer
Gracious God, thank you for the example of Elijah and Elisha. Thank you for how they encourage me to consider the importance of mentoring in my life.
I thank you also, Lord, for those who have been mentors in my life. In particular, thank you for . . . [mention any people who have mentored your].
Help me to know, Lord, what I should do when it comes to mentoring. Is there a relationship I should be developing? If so, what relationship? How might I proceed?
I pray not only for myself, but also for my church, that we will be a place in which mentoring happens consistently. May we learn to come alongside others for the sake of learning and growth. To you be all the glory. Amen.
Find all Life for Leaders devotions here. Explore what the Bible has to say about work at the unique website of our partners, the Theology of Work Project's online commentary. Reflection on today's Life for Leaders theme can be found here: The Prophet Elisha's Attention to Ordinary Work (2 Kings 2-6).
---
Subscribe to Life for Leaders
Sign up to receive a Life for Leaders devotional each day in your inbox. It's free to subscribe and you can unsubscribe at any time.
---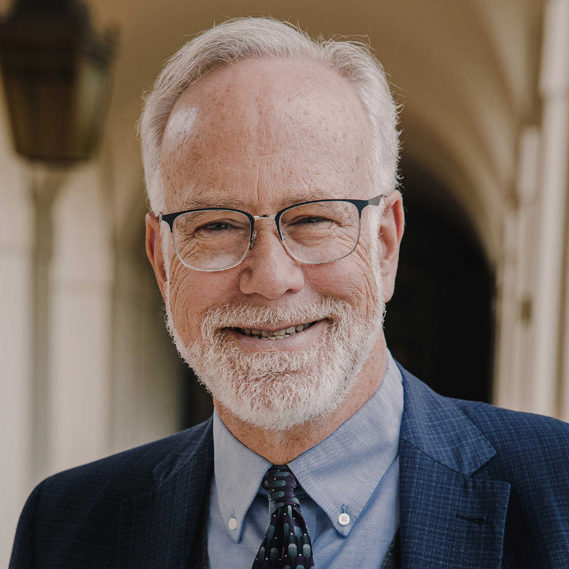 Dr. Mark D. Roberts is a Senior Strategist for Fuller's Max De Pree Center for Leadership, where he focuses on the spiritual development and thriving of leaders. He is the principal writer of the daily devotional, Life for Leaders, and the founder of the De Pree Center's Flourishing in the Third Third of Life Initiative. Previously, Mark was the Executive Director of the De Pree Center, the lead pastor of a church in Southern California, and the Senior Director of Laity Lodge in Texas. He has written eight books, dozens of articles, and over 2,500 devotions that help people discover the difference God makes in their daily life and leadership. With a Ph.D. in New Testament from Harvard, Mark teaches at Fuller Seminary, most recently in his D.Min. cohort on "Faith, Work, Economics, and Vocation." Mark is married to Linda, a marriage and family counselor, spiritual director, and executive coach. Their two grown children are educators on the high school and college level.