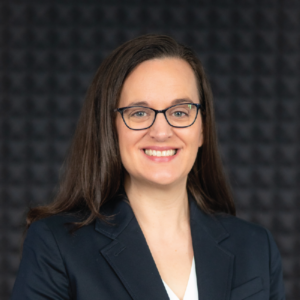 Director of Research and Resources
De Pree Center
Owner
The GoodWorks Group

Biography
Dr. Meryl Herr is the Director of Research and Resources at the Max De Pree Center for Leadership where she designs and conducts research studies that add to the understanding of what helps marketplace leaders flourish. She also oversees the conversion of research findings into resources that will serve leaders across industries and seasons of life.
Meryl earned a BS from Vanderbilt University and an MDiv and PhD (Educational Studies) from Trinity Evangelical Divinity School. Her doctoral research focused on the role of imagining the future in vocational discipleship. After completing her doctorate, Meryl pursued additional training by completing a graduate certificate in Educational Research Methods through the University of Illinois at Chicago.
In addition to working at the De Pree Center, Meryl is the owner of The GoodWorks Group, a consulting firm specializing in educational program planning and evaluation. She collects and analyzes data to help her clients make informed decisions about their educational programs.
Meryl is an affiliate professor for Fuller's Doctor of Ministry program. She previously taught as an adjunct professor for Cornerstone University's Professional and Graduate Studies Division as well as for Trinity Evangelical Divinity School.
Meryl lives in Watkinsville, Georgia with her husband and two sons.