God is our refuge and strength,
a very present help in trouble.
Therefore we will not fear, though the earth should change,
though the mountains shake in the heart of the sea;
though its waters roar and foam,
though the mountains tremble with its tumult. Selah
In yesterday's Life for Leaders devotion I began a series I'm calling Leading in a Crisis: The Difference God Makes. As I write, leaders throughout the world are facing incredibly difficult decisions related to the spread of the novel coronavirus. We who lead feel our own inadequacy at this time. We feel more strongly than ever the need for God's help. We want to know the difference God makes for our leadership in this particular crisis, with its global and local implications.
I started my devotional reflections with Psalm 46, a passage of comfort and reassurance. What this passage offers is not the usual platitudes: "I'm sure everything will be fine" or "Things will be back to normal soon." Rather, Psalm 46 begins, not with wishful thinking, but with bedrock, unchanging, life-changing truth about God: "God is our refuge and strength, a very present help in trouble" (46:1). Don't you need to know God in this way today?
Psalm 46 continues, "Therefore we will not fear, though the earth should change, though the mountains shake in the heart of the sea . . ." (Psalm 46:2). This verse echoes what we hear again and again in Scripture: Fear not! Don't be afraid! We remember that Jesus said, "Do not worry about your life" and "Do not worry about tomorrow" (Matthew 6:25, 34). But, we might wonder, isn't it right to be afraid of the possible impact of the coronavirus? Shouldn't we worry about what might happen if we don't respond decisively to the threat of COVID-19? Won't our fear help us to act in a timely fashion? Shouldn't we actually be concerned about the financial impact of the difficult decisions we face?
When the Bible says "Do not fear" it does not mean "Never take seriously any danger" or "Dismiss any threat without concern." There are many instances in Scripture of people acting wisely and decisively in response to a threat. In the Old Testament, for example, Jews in Jerusalem were threatened by their neighbors who plotted to attack them. Under the leadership of Nehemiah, they both "prayed to God" and "set a guard as a protection against them day and night" (Nehemiah 4:7-9). In a more familiar story from the New Testament, Joseph and Mary took seriously the warning of an angel of the Lord and fled to Egypt when Herod threatened the life of their son (Matthew 2:13-14). Later on, when there was a threat against the Apostle Paul when he was in Damascus, his associates helped escape by lowering him down the city wall in a basket (Acts 9:23-25).
The Bible's prohibition against fear does not discourage the wise evaluation of threats and taking appropriate action. It doesn't encourage us to live foolishly, as if nothing could ever harm us. Quite to the contrary! Take Proverbs 14:16 for example: "The wise are cautious and turn away from evil, but the fool throws off restraint and is careless."
What Psalm 46 and similar passages call us to is a primary and permeating trust in God, one that reshapes our responses to all of life, including genuine threats that should be taken seriously. We mustn't base our life on fear, letting it corrupt our decisions and taint our hearts. Even when we face real dangers, we do so standing on the bedrock of trust in God's faithfulness and sovereignty.
Ironically, things that might easily fill our hearts with fear can, in fact, renew our trust in God. When all is going well in life, it's easy to forget just how much we need the Lord each day, in our living and our leading. When we read about the threat of COVID-19, not only to our health but also to our social and economic wellbeing, we understandably feel afraid. We can allow this fear to take control of our minds and hearts. Or, we can let it turn us to the Lord, remembering his goodness and grace. We can let Scripture reassure us that God is our refuge and strength, not just in principle, but in this very moment. God is a "very present help in trouble" for you and me today (Psalm 46:1). This confidence allows us to lead, not governed by fear, but guided by our God who is right here with us now.
Something to Think About:
As you think about fear, when might a sort of fear be wise?
What kind of fear is overcome by the fact of God's presence and power?
In your leadership, can you think of times you reacted in fear and made unwise choices?
Can you think of times you exercised wise caution?
How do you need God's help today for your leadership?
Something to Do:
Be honest with God about your fears. Don't hold back. You can't surprise God with what you say. Then, ask for God's help, to distinguish between wise caution and fear to be avoided. If possible, talk about this with your small group or a Christian friend.
Prayer:
Gracious God, thank you for being our refuge, our strength, our helper in times of trouble. Thank you for being present with me right now, in all that I am going through in my life and leadership.
Help me, Lord, to have such confidence in you that I do not let fear pervade my heart. May I know deep down that my life and the lives of all entrusted to my care are in your hands.
Give me wisdom to know how to take threats seriously, including, of course, COVID-19. Help me to make wise decisions in light of what is true. As I do, may I reflect your grace and sovereignty. Amen.
Free Subscription to Life for Leaders
If you would like to receive a Life for Leaders devotional like this one, each day, in your inbox, without cost, please subscribe to Life for Leaders. You can unsubscribe at any time.
Learn More About Life for Leaders
You can access all of our Life for Leaders devotions HERE. You can also learn more about the De Pree Center and its resources HERE.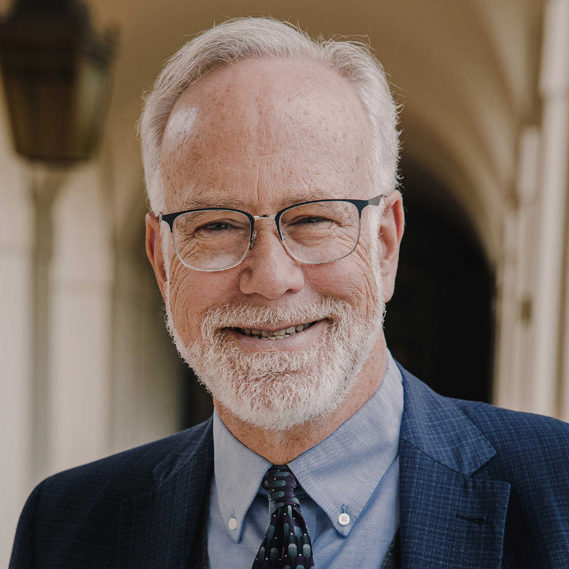 Dr. Mark D. Roberts is a Senior Strategist for Fuller's Max De Pree Center for Leadership, where he focuses on the spiritual development and thriving of leaders. He is the principal writer of the daily devotional, Life for Leaders, and the founder of the De Pree Center's Flourishing in the Third Third of Life Initiative. Previously, Mark was the Executive Director of the De Pree Center, the lead pastor of a church in Southern California, and the Senior Director of Laity Lodge in Texas. He has written eight books, dozens of articles, and over 2,500 devotions that help people discover the difference God makes in their daily life and leadership. With a Ph.D. in New Testament from Harvard, Mark teaches at Fuller Seminary, most recently in his D.Min. cohort on "Faith, Work, Economics, and Vocation." Mark is married to Linda, a marriage and family counselor, spiritual director, and executive coach. Their two grown children are educators on the high school and college level.