Now there was a great outcry of the people and of their wives against their Jewish kin. . . . I was very angry when I heard their outcry and these complaints.
Leading in a crisis isn't only a matter of keen observation and decisive action. It also involves honoring emotions in yourself and those entrusted to your care. In yesterday's Life for Leaders devotion, I talked about taking fear seriously. In the midst of a pandemic—with all of its personal, social, and economic implications—fear is both natural and sensible. Though we should not be governed by fear because God is with us, we do need to respect it in ourselves and in those we lead.
But fear is not the only emotion we need to honor in a crisis. Other emotions arise as well and need to be taken seriously by leaders. Consider, for example, the case of Nehemiah in chapter 5 of his memoir. While he was focusing on the rebuilding of the wall of Jerusalem and protecting his people from attack, some Jewish leaders used the crisis to line their own pockets. They took advantage of others by overcharging for food and other staples. Yes—price gouging is nothing new, I'm sad to say.
In response to their mistreatment at the hands of their own leaders, the people were understandably angry: "Now there was a great outcry of the people and of their wives against their own Jewish kin" (Nehemiah 5:1). They complained vigorously to Nehemiah, noting that their children were being forced into slavery to cover the exorbitant demands of the landowners (Nehemiah 5:5).
So how did Nehemiah respond to the irate protest of his people? He writes, "I was very angry when I heard their outcry and these complaints" (Nehemiah 5:6). His first response was a strong feeling of anger, based in part on empathy and in part on Nehemiah's passion for justice. What did he do with his anger? "After thinking it over, I brought charges against the nobles and the officials" (Nehemiah 5:7). Once again we see the full humanity of Nehemiah in play as he leads. He felt strong emotions and took time to reflect thoughtfully. He acted judiciously and sensibly, motivated by his feelings.
We see in Nehemiah an example of a leader who took seriously the emotions of his people, no matter what they were feeling. He listened to them and felt empathy for them. He did not ignore or minimize what they felt. Nor did he ignore or minimize what he felt. Though he was not governed by emotions, he nevertheless honored them as a leader.
This kind of leadership is appropriate at any time, but especially in a crisis. Once again, I want to turn to the advice of crisis communication experts Robert Sandman and Jody Lanard, whose counsel appears on the website of the Centers for Disease Control. In yesterday's devotion, I noted that Sandman and Lanard encourage leaders to take seriously the fear of their people. But they note that fear is not the only emotion that deserves to be taken seriously in the face of a crisis. Their recommendation #10 states: "Don't forget emotions other than fear. When people are faced with a crisis, the 'fear family' is only one possible set of responses. The 'empathy/misery/depression family' is also extremely common, and deserving of the crisis manager's attention. Among the other responses: anger, hurt, and guilt." So, leaders need to pay close attention to a variety of feelings among those they serve. Doing so will allow leaders to communicate effectively and guide compassionately. People will be inclined to follow leaders who understand them and honor their feelings.
Tomorrow I'll talk further about emotions and leading in crisis, drawing from the wisdom of Nehemiah, Peter Sandman and Judy Lanard. For now, let me encourage you to pay attention to the range of emotions in those you are leading. How are they feeling today, really? If they're working remotely for the first time, what might they be experiencing? Confusion? Loneliness? Relief? Sadness? Of course, you aren't limited to what your imagination cooks up. You could ask your people how they're doing. Yet, remember that many might not feel comfortable sharing certain feelings with you, especially if you're their boss.
The point is not to get everyone's emotions perfectly today, but rather to let your leadership be empathetic in this unusual time and situation. If you sense, for example, that your people are feeling anxiety (which is likely), then you may be more encouraging than usual or more forgiving if they seem distracted or even short-fused. God will help you by his Spirit to attend to the feelings of others and to lead in a way that honors the full humanity of the people entrusted to your care. This is one more way God makes a difference for leaders in a time of crisis.
Something to Think About:
Have you had a leader who was particularly attentive to the feelings of the people entrusted to their care? In what ways did this later make their empathy know?
How are you when it comes to honoring the emotions of those you lead? How do you think they would answer this question if they were being really honest?
What might help you to be more aware of the emotions of your people?
Something to Do:
Talk with the Lord about the people you lead and how they're doing. In this prayerful conversation, ask God to give you an extra measure of empathy and compassion for your people. If it would be helpful, jot down in your journal what strikes you as significant.
Prayer:
Gracious God, once again we thank you for the example of Nehemiah. His empathy teaches and encourages us. His emotional strength reassures us. His commitment to justice inspires us.
Help us, Lord, to honor the range of emotions in the people we lead at all times, and especially in this time of crisis. Give us eyes to see how our people are doing and open hearts. May we be compassionate and wise in all of our interactions with the people you have entrusted to our care.
We pray for these folk today, that they would sense your presence in the midst of whatever they're experiencing. Grant them your grace and peace. Amen.
Free Subscription to Life for Leaders
If you would like to receive a Life for Leaders devotional like this one, each day, in your inbox, without cost, please subscribe to Life for Leaders. You can unsubscribe at any time.
Learn More About Life for Leaders
You can access all of our Life for Leaders devotions HERE. You can also learn more about the De Pree Center and its resources HERE.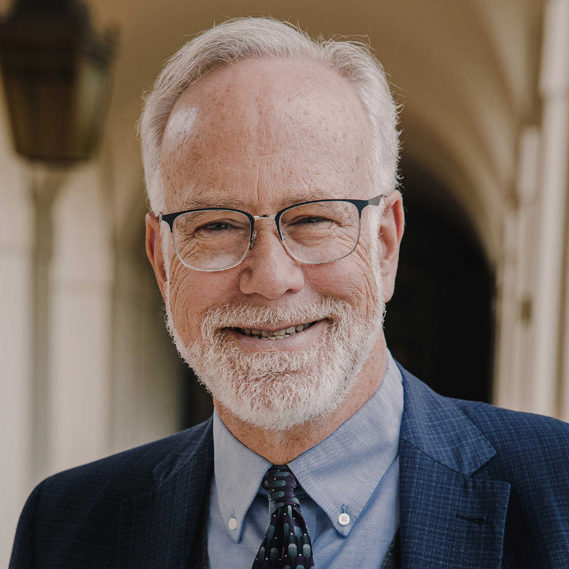 Dr. Mark D. Roberts is a Senior Strategist for Fuller's Max De Pree Center for Leadership, where he focuses on the spiritual development and thriving of leaders. He is the principal writer of the daily devotional, Life for Leaders, and the founder of the De Pree Center's Flourishing in the Third Third of Life Initiative. Previously, Mark was the Executive Director of the De Pree Center, the lead pastor of a church in Southern California, and the Senior Director of Laity Lodge in Texas. He has written eight books, dozens of articles, and over 2,500 devotions that help people discover the difference God makes in their daily life and leadership. With a Ph.D. in New Testament from Harvard, Mark teaches at Fuller Seminary, most recently in his D.Min. cohort on "Faith, Work, Economics, and Vocation." Mark is married to Linda, a marriage and family counselor, spiritual director, and executive coach. Their two grown children are educators on the high school and college level.