When the Jews who lived near them came, they said to us ten times, "From all the places where they live they will come up against us." So in the lowest parts of the space behind the wall, in open places, I stationed the people according to their families, with their swords, their spears, and their bows.
Leading in a crisis is not just about careful thinking and courageous deciding. It's also about honoring emotions, both our own and those of the people we lead.
In Monday's Life for Leaders devotion, the sixth part of a series called Leading in a Crisis: The Difference God Makes, I began examining the leadership of Nehemiah, one of the Old Testament's most impressive leaders. He was able to accomplish an extraordinary task through his compelling leadership, though Nehemiah would be quick to give credit to God, first and foremost (Nehemiah 6:16).
Yet, perhaps surprisingly, the first thing we learn about Nehemiah's leadership from his own witness is that it began with his powerful emotional reaction to the crisis facing his fellow Jews in Judah. In his memoir, he admits that, having heard the dire report of conditions in and around Jerusalem, he "sat down and wept, and mourned for days" (Nehemiah 1:4). Now, this is not usually how we envision strong leaders. You can find hundreds of books on leadership in your local bookstore, very few of which will encourage leaders to feel deeply and/or share their feelings openly. (An exception would be the writings of Patrick Lencioni, which encourage leaders to be vulnerable. See, for example, The Advantage.) We think of leaders as being tough, and tough usually means being either unfeeling or not expressing feeling.
Nehemiah exemplifies the opposite. In Monday's devotion I encouraged you to learn from and imitate his example. Rather than denying your feelings, acknowledge them. Rather than hiding them, admit them. I'm not suggesting that you become maudlin or self-indulgent. I am suggesting that your leadership will be stronger if you accept your full humanity and let others know of this acceptance. This is especially true, I suggested, in a crisis.
Since writing Monday's devotion, my constantly-learning wife introduced me to a field I had not known about before: Crisis Communication. Often, this has to do with helping companies that are facing public relations nightmares (think Boeing, British Petroleum, etc.). But crisis communication experts also study how leaders can best lead in times of crisis. For leaders in government, public health, business, education, church, and more, the COVID-19 crisis is one for which we need guidance from such experts. As it turns out, much of what they suggest is surprisingly consistent with what we see in Nehemiah.
Two experts in the crisis communication field, Peter M. Sandman and Jody Lanard, created a document to help leaders in times of crisis. This document, "Crisis Communication I," can be found on the website of the Centers for Disease Control in the U.S. It is full of wise, practical guidance for leaders dealing with difficult crises. I will not survey all of the advice offered by Sandman and Lanard, but I do want to share some of what they say about emotions.
About one-quarter of "Crisis Communication I" deals directly with emotions, since they are a major component of any crisis and affect the effort to lead in its midst. For example, recommendation #9 (out of 14) reads: "Don't aim for zero fear. People are right to feel fearful in a crisis. A fearless public that leaves you alone to manage the problem is not achievable. Nor is it desirable; vigilance and precaution-taking depend on sufficient fear." Leaders must respect the genuine fear of those they lead, among other emotions. (Last week, I wrote about different kinds of fear, and how the Bible's imperative "Fear not" does not mean we should reject reasonable fear of specific threats.)
Consider the example of Nehemiah in chapter 4 of his memoir. As he was leading the Jewish people to rebuild the wall of Jerusalem, they began to be weary (Nehemiah 4:10). Sensing their vulnerability, their enemies threatened to attack and kill them (Nehemiah 4:11). So the Jewish workers came to Nehemiah and said, "From all the places where they live they will come up against us" (Nehemiah 4:12). They were afraid, reasonably so.
How did Nehemiah respond? First, he "stationed the people" in places where the wall was not complete "with their swords, their spears, and their bows" (Nehemiah 4:13). In other words, Nehemiah honored the fear of his people and responded strategically in response to this fear. No doubt they felt heard and valued. Yet, after doing this, Nehemiah said, "Do not be afraid of them. Remember the LORD, who is great and awesome, and fight for your kin, your sons, your daughters, your wives, and your homes" (Nehemiah 4:14). What a great example of leadership that both honors the fear of people and reminds them not to live in fear, but rather to trust the Lord, "who is great and awesome."
It's likely that the people you lead are afraid these days. They may be afraid of contracting COVID-19. They may be afraid of dying from this disease. They may be afraid for their friends and loved ones. They may be afraid of going stir-crazy in their homes. They may be afraid of losing their jobs or suffering from a crippled economy. And on and on. As a leader, part of your job involves taking seriously the fears of your people. This doesn't mean being governed by those fears. But it does mean honoring them and, more importantly, honoring the people entrusted to your care. They need to know that they, in their full humanity, feelings and all, matter to you.
Something to Think About:
What do you think of the notion that honoring emotions is essential for leadership, especially in a crisis?
Have you experienced this sort of leadership from others? If so, what memories do you have?
Are you usually a leader who honors the feelings of those you lead? How do you express this? What difference does it make in how you lead?
Something to Do:
Set aside a few minutes to reflect quietly and prayerfully on the emotions of those you lead, whether at work or home, in church or in your neighborhood. How are these folks feeling? How would you feel if you were in their shoes?
Prayer:
Gracious God, you have made us a full human beings, people of mind and body, heart and soul. Our emotions are part of your creation, even though they are tainted by sin. Nevertheless, we thank you for the gift of emotions, for joy and excitement, for compassion and tenderness, and so much more.
Help us, we pray, to be attentive to the full humanity of the people we lead. In particular, may we be sensitive to their fear. Give us wisdom to know how best to respond when they are afraid. Helps us also, we pray, to encourage our people to trust you, living by faith rather than by fear. Amen.
Free Subscription to Life for Leaders
If you would like to receive a Life for Leaders devotional like this one, each day, in your inbox, without cost, please subscribe to Life for Leaders. You can unsubscribe at any time.
Learn More About Life for Leaders
You can access all of our Life for Leaders devotions HERE. You can also learn more about the De Pree Center and its resources HERE.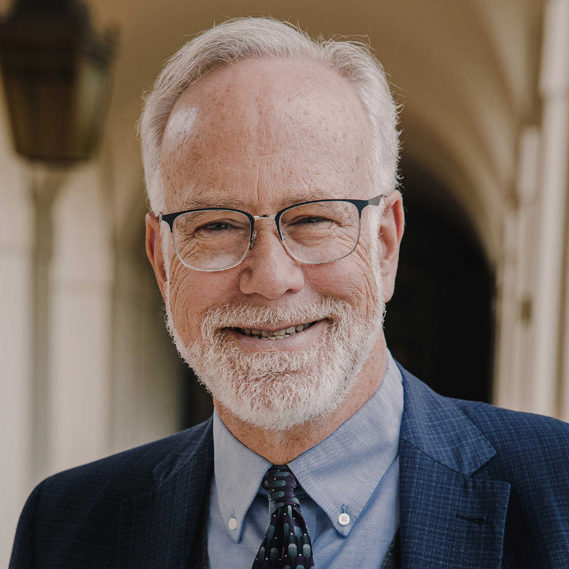 Dr. Mark D. Roberts is a Senior Strategist for Fuller's Max De Pree Center for Leadership, where he focuses on the spiritual development and thriving of leaders. He is the principal writer of the daily devotional, Life for Leaders, and the founder of the De Pree Center's Flourishing in the Third Third of Life Initiative. Previously, Mark was the Executive Director of the De Pree Center, the lead pastor of a church in Southern California, and the Senior Director of Laity Lodge in Texas. He has written eight books, dozens of articles, and over 2,500 devotions that help people discover the difference God makes in their daily life and leadership. With a Ph.D. in New Testament from Harvard, Mark teaches at Fuller Seminary, most recently in his D.Min. cohort on "Faith, Work, Economics, and Vocation." Mark is married to Linda, a marriage and family counselor, spiritual director, and executive coach. Their two grown children are educators on the high school and college level.