When some were speaking about the temple, how it was adorned with beautiful stones and gifts dedicated to God, Jesus said, "As for these things that you see, the days will come when not one stone will be left upon another; all will be thrown down." They asked him, "Teacher, when will this be, and what will be the sign that this is about to take place?" And he said, "Beware that you are not led astray; for many will come in my name and say, 'I am he!' and, 'The time is near!' Do not go after them. When you hear of wars and insurrections, do not be terrified; for these things must take place first, but the end will not follow immediately."
Then he said to them, "Nation will rise against nation, and kingdom against kingdom; there will be great earthquakes, and in various places famines and plagues; and there will be dreadful portents and great signs from heaven. But before all this occurs, they will arrest you and persecute you; they will hand you over to synagogues and prisons, and you will be brought before kings and governors because of my name. This will give you an opportunity to testify. So make up your minds not to prepare your defense in advance; for I will give you words and a wisdom that none of your opponents will be able to withstand or contradict. You will be betrayed even by parents and brothers, by relatives and friends; and they will put some of you to death. You will be hated by all because of my name. But not a hair of your head will perish. By your endurance you will gain your souls."
Focus
Jesus came once, and he is coming again. In the midst of the darkness our Lord offers us hope. Not escape, but hope. The beginning is near.
Devotion
While Advent won't begin for two more weeks, the lectionary readings—especially the Gospel readings—are already preparing us. Advent helps us contemplate, not only Christ's first coming in Bethlehem, but his Second Coming at the end of all things. Last year we considered the moment in the Gospel of Mark where Jesus reminds us that things are going to get dark, and the year before that a similar moment in Matthew; this year we hear from Luke.
Down through the years, on street corners and in crowds, and at other places where people assemble, those who want us to pay attention to these dark predictions from Jesus have often held up signs saying, "The end is near." Interestingly, though, Jesus himself doesn't say that; he explicitly says not to listen to and follow those who say that the end is near!
In fact, it's easy to read this passage and focus on the bad things it mentions: wars, insurrections, persecutions, famines, plagues, betrayal, hatred, and even portents in the heavens. But note that a thread of hope weaves through the darkness. "Do not be terrified," Jesus says in one place (Luke 21:9). "I will give you words and a wisdom that none of your opponents will be able to withstand or contradict," he adds later (21:15). And finally he reminds his hearers, "Not a hair of your head will perish. By your endurance you will gain your souls" (21:18-19).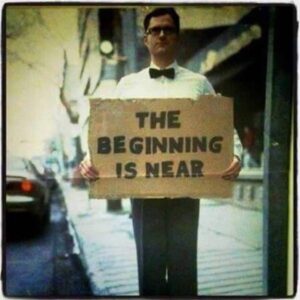 A few years ago, an image started circulating on social media—I wish I knew the source. It features a young man standing on a street corner holding a sign, just like the many signs held up by those who worry that the end times are upon us. But his sign, as you can see at the right, doesn't warn of the end; it says, "The Beginning is Near."
The minute I saw this image, I thought, What a beautiful representation of Advent's approach. Terrible things have happened to us all in the recent past: war, plague, betrayal. The days are short and the nights are long. The future often looks very bleak. But Jesus came once, and he is coming again. In the midst of the darkness our Lord offers us hope. Not escape, but hope. The beginning is near.
Reflect
What are you afraid of?
Where can you see Christ in your fear?
Act
One of my very favorite poems of all time comes from J. R. R. Tolkien's The Lord of the Rings. Tolkien was a Christian, and at a moment in the story when all seems hopeless, he puts a beautiful song about hope into the mouth of his character Sam Gamgee, culminating in this statement:
Though here at journey's end I lie
in darkness buried deep,
beyond all towers strong and high,
beyond all mountains steep,
above all shadows rides the Sun
and Stars for ever dwell:
I will not say the Day is done,
nor bid the Stars farewell.
You can read all the lyrics here and listen to a lovely recording here as you think about the hope that Christ offers, even when we are troubled by much and buried very deep.
Prayer
Lord, may I hope again and begin again with you this Advent. Amen.
Find all Life for Leaders devotions here. Explore what the Bible has to say about work at the High Calling archive, hosted by the unique website of our partners, the Theology of Work Project. Reflection on today's Life for Leaders theme can be found here: Watch Out!.
---
Subscribe to Life for Leaders
Sign up to receive a Life for Leaders devotional each day in your inbox. It's free to subscribe and you can unsubscribe at any time.
---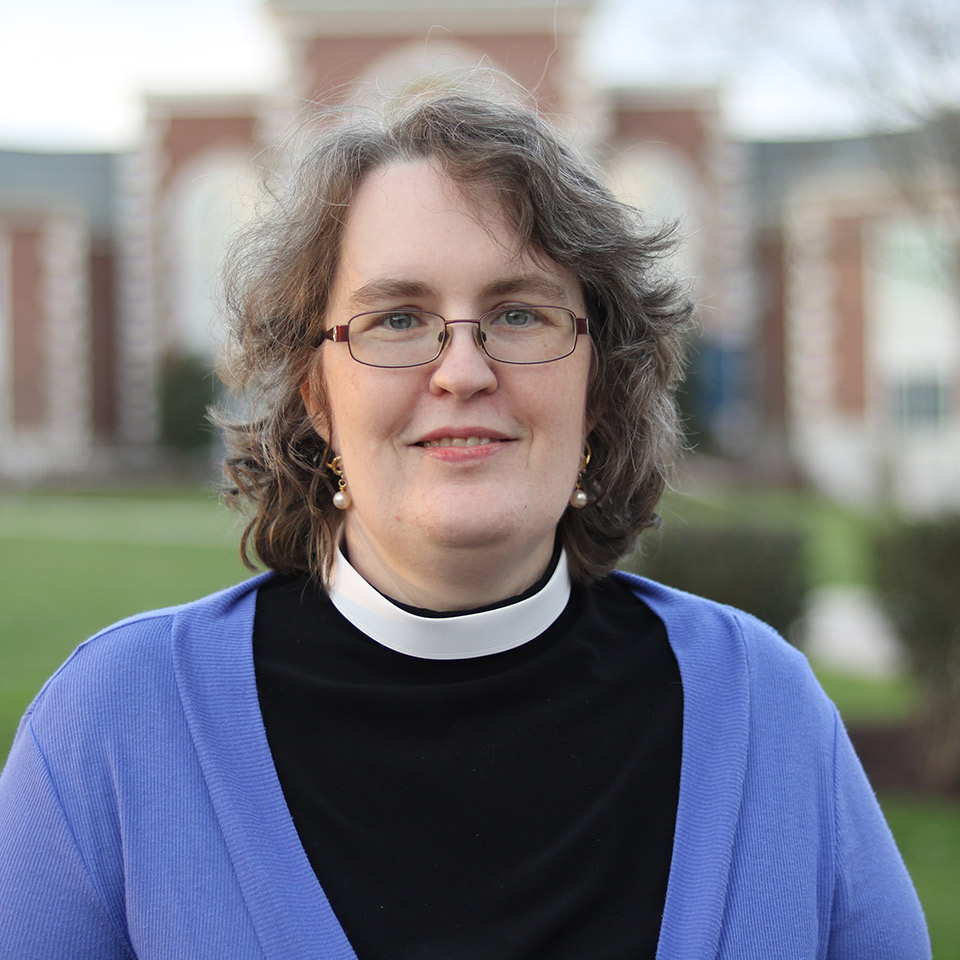 Jennifer Woodruff Tait (PhD, Duke University) is the editor of and frequent contributor to Life for Leaders. She is also the managing editor of Christian History magazine and web editor for the Theology of Work Project, and a priest in the Episcopal Church. She has written a book of poetry, Histories of Us. Jennifer lives in Berea, Kentucky, with her husband, Edwin, and their two daughters.
Click here to view Jennifer's profile.